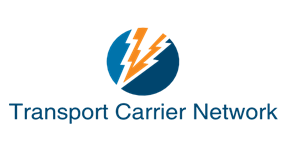 TRANSPORT CARRIER SIGN UP INFORMATION
Signups to participate in FREIGHT ORDER REVERSE AUCTIONS take place at the Transport Carrier Network.com. Before a transport carrier can participate in a FORAM auction, a transport carrier must be pre-qualified as a federally licensed and insured transport carrier and be listed on the National Transport Carrier Directory have an account with a user name and password. An annual pre-qualification and a national directory listing fee of $365 is required.
With a listing fee the transport carrier will be listed at the National Transport Carrier Directory that provides company name, domicle address, contact information, and a link to the company's Federal Motor Carrier Safety Administration (FMCSA) website for quick Shipper or BCO pre-qualification information.
The TCN Network uses Shippernet Freight Center websites, at or nearby, over 1850 towns, cities, ports, and airports to link shippers and BCOs directly to transport carriers. Transport carriers doing business in the area can be listed at one or multiple location with contact information.
The transport carrier with a TCN account has an additional suite of Truckwin Solutions, products and services available.